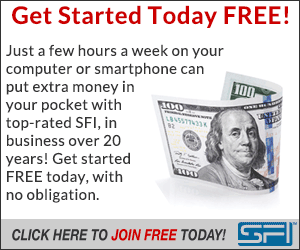 Opti-Build is a real game changer to help you build your SFI business.
SFI has always said that a good way to build your business is to use the 5 X 5 business model. 5 affiliates on your first generation, 25 on your second generation, 125 on your third, 625 on your fourth, and so on as put forth in the diamond plan.
Here's what they are saying about it on there blog found here https://news.sfimg.com/2017/03/06/introducing-opti-build/
So, today, we are extremely excited to reveal a program that not only actively and directly helps you build a powerful and lucrative 5×5 team, but also every member of your team, too!  This is because Opti-Build™ directly harnesses the synergistic energy of real teamwork and funnels this energy in a way that can make your SFI business explode with growth.
It makes changes to the way Designated Diamonds are now done. Instead of affiliates assigning  DDs the compcompany assigned who is assigned as a DD. There are now two calcifications to be a DD 1. You must have the rank of Bronze Team Leader. 2. You must join the Opti-Build program
So what exactly IS Opti-Build?  Opti-Build can be thought of as a live auto-reassigner of your sign-ups.  Participating in the program means you'll be automatically and immediately reassigning a minimum of 50% of your personal sign-ups to those who've been designated as DDs on your first level and, later, to DDs residing on lower generations in your group.

NOTE! Opti-Build isn't designed to use only the sign-ups YOU are generating.  On the contrary, if your upline members are also participating (and hopefully many or all will), THEIR sign-ups will also go into the Opti-Build "stream," which can deliver a constant flow of sign-ups to you and  every affiliate in your downline, too.  Indeed, it's what makes Opti-Build so potentially powerful!
As you can see it will help members to build a business. If you want to build a business then you should check out how opti-build works. It is a real team build where your upline who has more experience helps yo and your downline build your business and there by helping each other get to a higher level. Now is the time to join and get in on this game changer.